RCEP talks speed up amid TPP failure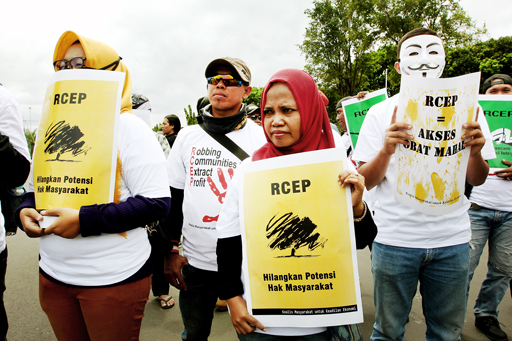 The Jakarta Post | 7 December, 2016
RCEP talks speed up amid TPP failure
Amid the collapse of the United States-backed Trans-Pacific Partnership (TPP) pact, trade officials from 10 Southeast Asian countries and six key partners started on Tuesday talks on a rival deal with new urgency.
Indonesia, as the host of the 16th round of talks on a Regional Comprehensive Economic Agreement (RCEP), called for a conclusion in 2017 amid a range of contentious issues, including trade in goods and services and investment, as reflected in the previous snail-paced progress.
Trade Minister Enggartiasto Lukita said that in the face of rising protectionism and escalating uncertainties, caused by, among other things, the demise of the TPP following Donald Trump's election victory and Brexit, ASEAN and its partners needed to accelerate the ongoing negotiations to open their markets.
"We cannot afford to drag it out further at a time when the global trade outlook continues to be bleak, coupled with rising protectionism in both advanced and developing countries," Enggar told more than 600 delegates when opening the talks in Indonesia Convention Exhibition (ICE), BSD City.
The World Trade Organization (WTO) lowered in September its forecast for global trade growth in 2016 from 2.8 percent to 1.7 percent.
In the wake of protectionist policies worldwide, trade growth has stopped outpacing global economic growth, according to the global trade governing body.
Negotiations on the RCEP, which is backed by China and involves six of ASEAN's main trade partners without prior free trade deals – Australia, China, India, Japan, South Korea and New Zealand – is set to cover 30 percent of the world's economy and a market of 3.4 billion people with a combined gross domestic product (GDP) of US$21.4 trillion.
As the negotiating parties are at varied levels of development, it will determine how far they are willing to commit to trade and investment liberalization, said Arjun Goswami, a technical adviser at the Asian Development Bank's (ADB) economic research and regional cooperation department.
"There may be differing views on the extent of coverage of RCEP trade and investment liberalization in terms of goods and services, with the latter posing greater challenges," Goswami said as quoted by Bloomberg.
China, known as the factory of the world due to the mega-size of its manufacturing industry, will push for acceleration of the RCEP talks in order to finish soon, its Commerce Ministry spokesman Shen Danyang said late last month, Reuters reported.
RCEP trade negotiating committee chief Iman Pambagyo said the current round of talks sought to build up a framework through which the participating members could raise their confidence and trust in making offers and requests in a bid to speed up the process.
"After attending 15 rounds, I can see confidence and trust is the key. We need to understand that all the requests and offers [by members] are made without prejudice and will not affect final positions of respective countries so our negotiations can move bit by bit," said Iman, who is also Indonesia's director general for international trade negotiations.
The meeting in Indonesia will try to end another chapter on small and medium enterprises, while also beginning to raise some new issues, such as services liberalization and intellectual property rights and continue discussions on trade in goods and services, according to Iman.
Up to the present, only one chapter on economic and technical cooperation has been completed.
Lutfiyah Hanim, a member of the board of the Institute for Global Justice, warned of the attempt by some parties to include proposals of some clauses and chapters from the TPP, such as government procurement, state-owned enterprises, investor-state dispute settlement, intellectual property rights and e-commerce, into the ongoing RCEP talks.
---