Corporations dominate trade advisory panels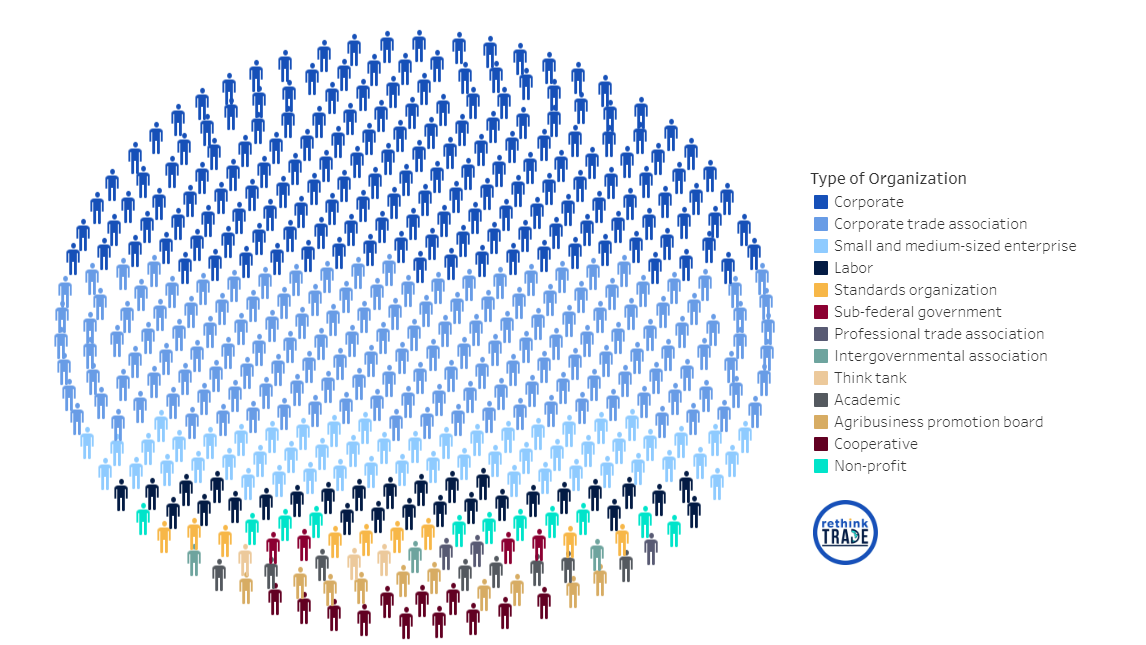 The American Prospect | 30 March 2023
Corporations dominate trade advisory panels

BY DAVID DAYEN
To view all formatting (tables, hyperlinks, etc.), read the article on the original page

Officially, the Biden administration has not completed a single trade deal during his first term. Unofficially, ersatz trade deals have proliferated.
As my colleague Lee Harris has written, Janet Yellen's Treasury Department has been brokering side agreements on critical minerals for electric batteries with Europe, and on Tuesday the administration announced a separate mineral agreement with Japan, which produces hardly any of the minerals in question (though they do process some). Plus, the Indo-Pacific Economic Framework (IPEF), a proposed deal with 13 Pacific Rim countries in Asia and the Americas, features trade chapters with elements that are virtually indistinguishable from U.S. trade deals of the past 40 years. Yet it isn't likely to go through the congressional ratification process.
The digital trade chapter of IPEF has raised particular alarms for its potential to lock in requirements that would render signatory countries unable to protect citizens from privacy breaches, labor violations, or impositions of market power. Members of Congress have expressed anger at being shut out of their constitutional responsibilities on trade.
What's odd about this moment is that the key Cabinet agency for administration trade policy, the office of U.S. trade representative (USTR) Katherine Tai, has expressed a desire to move away from the status quo, to one based on respecting national sovereignty and prioritizing labor and environmental rights. Tai has support inside the White House, including with the president. So why is trade policy going sideways when its titular leadership is so committed to something new?
One answer may involve the network of nearly 500 "cleared trade advisers," who wield enormous influence over U.S. trade policy. These individuals are given security clearance to review and comment on proposed trade deals before they are released to the public. That includes the recent submission of IPEF language that represents the U.S. negotiating position. Even members of Congress have to schedule classified meetings to see pre-negotiated text; advisers get the text online on a secure website, and can request personal face time with the negotiators.
A review of the trade advisory system conducted by Rethink Trade, a program of the American Economic Liberties Project, finds that 84 percent of the 482 current cleared trade advisers represent business interests, defined as corporations, corporate and professional trade associations, agribusiness promotion boards, and small and medium-sized enterprises. Numerous companies, from Walmart to Boeing, Lockheed Martin to Pfizer, are afforded unique access to lobby for their interests in global trade deals. By contrast, labor, academia, state interests, and cooperative organizations are woefully underrepresented.
"Replacing decades of failed U.S. trade policy and pacts shaped by and for the corporate interests represented by these advisers is much more difficult while they maintain an inside role on trade texts and negotiations kept secret from the public," said Lori Wallach, director of the Rethink Trade program.
THE ADVISORY SYSTEM WAS PART of the Trade Act of 1974, which established the "fast track" process that made it easier for presidents to get trade agreements negotiated and ratified, and broadened the scope of what changes could be made in those deals. The idea behind the cleared advisers was to limit USTR's power by forcing the executive branch to seek other input. But this was a miscalculation, as after the neoliberal turn in the 1980s, administrations from both parties typically selected corporate voices to serve as advisers, where they can remain for decades. In practice, the adviser system created an open lane for industry to lobby on trade deals.
As we're now seeing, the blob of trade advisers and career USTR bureaucrats can undermine agency leadership and even the president when they want to take trade policy in a different direction. While Biden's USTR is known to seek other advice, particularly from labor, the cleared advisers' ability to see and comment on text early gives them a leg up.
Several large corporations have multiple cleared advisers, including Amazon, Cargill, Cisco Systems, seed giant Corteva, FedEx, Johnson & Johnson, and UPS. Trade organizations representing pharmaceuticals, oil and gas, textiles, and service industries have multiple advisers too.
Of the whopping 184 advisers related to agricultural policy—more than 40 percent of all trade advisers—just 47 are not from corporations or corporate trade groups, and only 12 are from cooperative farms. Envoys from the cattle, pork, produce, poultry, potatoes, pet food, tree nuts, oranges, soybeans, corn, distilled spirits, grains, dairy foods, cotton, and hemp industries populate the list. While USTR has met with small farmers and ranchers across the country, only cleared advisers get special access to trade agreement text.
The Trade Advisory Committee on Africa is a good example: It features four CEOs, two company and trade group presidents, a representative from Caterpillar and the Africa practice coordinator for BigLaw firm Jones Day. In all, just two of the 18 advisers are not from the corporate world.
Other committees are as you'd expect. A Northrop Grumman director has a seat on the aerospace committee; General Motors' government relations manager (aka lobbyist) sits on the automotive equipment committee; Halliburton's lobbyist is on the energy committee, as is Chevron's lobbyist and a director of the American Petroleum Institute. If an industry committee is related to a particular product, the odds are that the biggest company producing that product is advising the government about trade deals that affect it.
THAT CORPORATE INTERESTS DOMINATE the 27 official advisory committees has been well known ever since a 2014 Washington Post exposé detailed the situation. At the time, the Obama administration promised to rebalance the committees, and the Biden administration has similarly made that vow.
In fact, earlier this month the White House did recharter the Advisory Committee for Trade Policy and Negotiations (ACTPN), the highest-level committee of them all. The 14 new members include just six corporate representatives, along with three labor officials, two representing nonprofits, a state legislator, an academic, and someone from a think tank. This was the first time that corporate America did not represent the majority of the ACTPN.
Notably, ACTPN is the only trade advisory committee that USTR singularly controls. Tai used that authority to overhaul the committee entirely and neuter the corporate domination. "Developing a worker-centered trade agenda means bringing together a range of perspectives and backgrounds to design and implement our policies," Tai said at the time.
But the members of the other 26 advisory committees, where USTR mostly shares power with the Departments of Commerce and Agriculture, were almost all reappointed a year earlier, meaning that the shake-up on the ACTPN didn't alter the overall composition of the committees in total. In fact, the percentage of corporate advisers didn't change at all; it was 84 percent before the ACTPN recharter, and 84 percent after.
"The trade pacts texts need to be made public and the entire advisory system rechartered along the lines of what USTR did with the committee they control exclusively," Wallach said.
In a statement, USTR spokesperson Adam Hodge highlighted the improved representation on the ACTPN, and added, "We're working as fast as possible with Commerce and USDA to add more diverse members to other trade advisory committees, while also directly engaging Americans across the country to craft more resilient, durable trade policy that creates inclusive prosperity."
Out of the 26 other committees, only one, the Labor Advisory Committee, has no corporate representative; even the Intergovernmental Policy Advisory Committee has a member from World Trade Center Utah, a trade association. Six of the 15 members of the Trade and Environment Policy Committee have corporate ties. Nearly all of the other committees have majority membership from the corporate sector, including every agricultural committee (jointly administered by USTR and the Department of Agriculture) and the industry trade committees (jointly administered by USTR and the Department of Commerce).
A USDA spokesperson told the Prospect that "achieving balanced representation on the agricultural advisory committees is a priority for USDA and USTR," and that both agencies "continue to work to increase the diversity of perspectives on the commissions." A Commerce Department official added that "it is a priority of the Department of Commerce to maintain balanced representation on the Industry Trade Advisory Committees," and that "further increasing the diversity of viewpoints within industry, including businesses from underserved communities, on these committees is a priority for the Department."
THE RELATIVELY NEW DIGITAL ECONOMY ADVISORY COMMITTEE has a similar composition as other sectors. Eighteen of the 19 advisers on the committee represent either corporations or trade associations, including executives from Amazon, AT&T, Verizon, Google, Cisco, Texas Instruments, Citrix, Oracle, and Qualcomm. Leaders from The App Association, the Internet Infrastructure Coalition, and the Software Alliance are on the panel. Ari Schwartz from the Center for Cybersecurity Policy and Law is from a think tank, but one that takes "substantial contributions" from Google. There are no consumer or labor advisers on tech policy.
This is particularly notable given the concern around the digital trade chapter in IPEF, which largely mirrors the rules that were imposed in the Trump administration's NAFTA update, the U.S.-Mexico-Canada Agreement (USMCA). Countries signing the agreement would be restricted from reviewing source code for algorithms and artificial-intelligence programs for discrimination by race, gender, or other factors. They would be prohibited from limiting corporate control, storage, and use of private and personal data, including the sale of data. And they would not be able to enact laws that attempt to reduce the power of large tech firms, designating such laws as an illegal trade barrier.
This USMCA-style trade chapter would make it difficult or even impossible to advance laws that nearly passed Congress last year—from laws preventing self-preferencing on digital platforms like Amazon and Facebook, to "open app market" laws ending exorbitant fees from dominant cellphone companies Google and Apple, to journalism reforms that would force aggregators like Google and Facebook to pay for content. Bills involving data privacy, platform surveillance facial recognition, biometric technology, and artificial intelligence would also be threatened.
USTR is negotiating the section of IPEF that includes the digital trade chapter. Despite Tai's commitment to a range of perspectives and backgrounds, and despite her engagement with other stakeholders outside the cleared adviser process, when it comes to who gets to see the text first, she's hearing from the same old dominant players. Members of Congress have condemned the proposal, and have advanced various reforms to fix it. But the trajectory of the policy raises the question of who has more power: elected officials, or unelected trade advisers.
The full data set from Rethink Trade is available for download at their website.
---