Japan, China, South Korea fail to strike FTA deal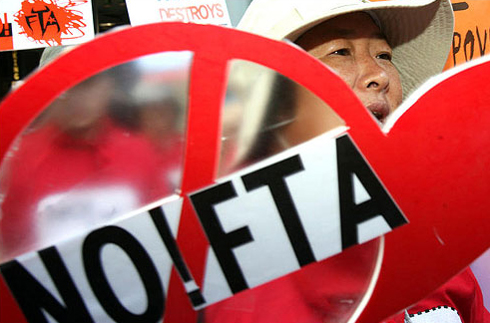 The Japan Times | 26 September 2015
Japan, China, South Korea fail to strike FTA deal
Japan, China and South Korea ended their two-day negotiations on a trilateral trade agreement without fruit on Friday.
In the eighth FTA negotiation round, the three countries remained apart even over broad items such as a statistic for indicating progress on efforts to eliminate tariffs, sources said.
Although the three are expected to hold a summit meeting in Seoul as early as the end of October, the FTA talks, which started two and a half years ago, have yet to move on to the stage of full-fledged tariff negotiations.
At a news conference after the talks in Beijing, Tatsuo Sato, deputy director-general of the Foreign Ministry's Economic Affairs Bureau, said the three countries have been moving toward agreement inch by inch.
Some observers say South Korea has been blocking progress in the trilateral talks because it wants to have a competitive edge over Japan in the Chinese market by capitalizing on its bilateral FTA with China, which is expected to go into force by the end of the year.
---