Japan to reduce Thai rice purchases under TPP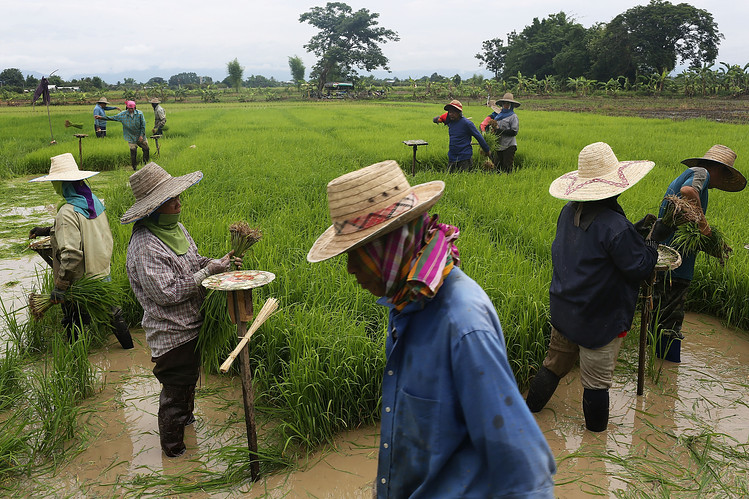 Bangkok Post | 15 Apr 2015
Japan to reduce Thai rice purchases under TPP
Trade pact negotiators to propose buying more grain from US
Writer: Bloomberg News
Japan plans to reduce rice purchases from Thailand and import more from the United States if a trans-Pacific trade pact led by the two countries goes through.
Japan bought 330,000 tonnes of rice from Thailand in the fiscal year that ended March 31, according to the Agriculture Ministry in Tokyo. It also purchased and 60,000 tonnes from China.
Tetsuro Shimizu, general manager at Norinchukin Research Institute in Tokyo, said if the 12 Asia-Pacific countries negotiating the Trans-Pacific Partnership succeed, Japan would buy more rice from the US and reduce imports from non-TPP members Thailand and China.
Two officials who have knowledge of the Japan's negotiating position said the country will propose exactly that during meetings in Tokyo this week.
Japan may propose increasing purchases of US rice by as much as 100,000 tonnes a year, while leaving a tariff system in place, according to Masayoshi Honma, agricultural and resource economics professor at the University of Tokyo.
An accord between the US and Japan about access to each others' markets for products such as rice, pork and automobiles would only take effect if incorporated into the TPP.
"As Japan wants its rice to be excluded from the tariff-elimination goal of the TPP, the government must come up with an alternative measure to improve foreign access to the Japanese rice market," said Mr Honma, who advised Japanese Prime Minister Shinzo Abe during his first term.
An official at Japan's TPP negotiating office declined to comment as negotiations are ongoing. The official asked not to be named, citing department policy.
Mr Abe will visit Washington later this month to meet with President Barack Obama over issues ranging from defence to trade.
Rice, wheat, barley, beef, pork, dairy products, sugar and starch crops are considered politically sensitive products that have to be protected, according to Hiroshi Oe, Japan's TPP ambassador. Japanese farmers are a central constituency of Mr Abe's Liberal Democratic Party.
WTO portion
Japan's Agriculture Ministry must buy 770,000 tonnes of foreign rice every year without tariffs under a World Trade Organization agreement. The country imposes a duty of 341 yen (93 baht) per kilogramme on imports above the quota.
Half of the mandatory 770,000 tonnes currently come from the US.
Rice futures traded at US$10.09 per 100 pounds on the Chicago Board of Trade at 3.50pm today Tokyo time, heading for the lowest settlement since July 2010.
Thai 5% broken white rice, an Asian benchmark, fell to $401 a tonne on April 8, matching the lowest level since June.
---