Renegotiation of Korea-US FTA may dent alliance: Seoul officials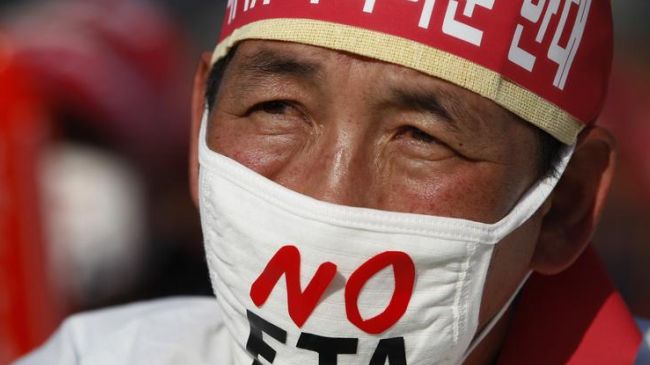 Korea Times | 16 May 2016
Renegotiation of Korea-US FTA may dent alliance: Seoul officials
A demand to renegotiate the terms of a free trade agreement (FTA) between South Korea and the United States may very well mean the end of the bilateral trade pact, if not the countries' alliance, Seoul officials said Monday.
The remarks came one day after a senior adviser to U.S. presidential hopeful Donald Trump said the real estate tycoon, if elected, may wish to "go back to ground zero" on all FTAs the U.S. has signed so far, including the Korea-U.S. FTA.
In an interview with Yonhap News Agency, Walid Phares, an international relations scholar who serves as Trump's foreign policy brain, said renegotiation doesn't "mean cancel everything."
"It means to sit down and see, this is what has happened in America since the time we have negotiated and had the agreement (signed), and you tell us what are your cards, and we come closer," he said.
Technically, renegotiations of the Korea-U.S. FTA are possible, though they must be preceded by a declaration of termination.
Under the so-called KORUS FTA, either side may demand termination of the bilateral agreement, at least 180 days prior to their desired date of termination, according to government officials here.
Over the 180-day period, the other side may request holding discussions on ways to keep the agreement, resulting in a de facto renegotiation of existing terms.
Realistically, renegotiations are impossible unless the U.S. wishes to throw out the Korea-U.S. alliance as well, the officials noted.
"An FTA is not just a trade pact, but an agreement that closely intertwines member countries in about every aspect, including political and diplomatic aspects," a ranking government official said, while speaking on the condition of anonymity.
"An attempt to nullify such an agreement simply because one does not like it anymore is quite literally the same as telling the other party that they will not see each other anymore forever," the official added.
Others claimed Trump, even if elected, may not have the authority to nullify or even renegotiate the Korea-U.S. FTA as such power lies with the legislature and not with the executive branch.
The KORUS FTA was negotiated and signed by the countries' governments but only on behalf of their respective legislative bodies.
The bilateral free trade pact was initially signed in April 2007. It went into effect nearly five years later in March 2012, after it was ratified by U.S. Congress in October 2011 and by the South Korean parliament the following month. (Yonhap)
---