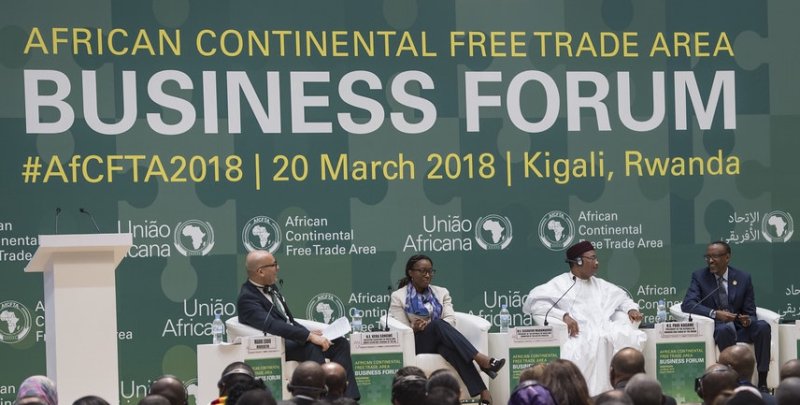 The African Continental Free Trade Area (AfCFTA) is a trade agreement that aims to create a vast free trade area for over 1.3 billion people with a combined GDP of over US$ 3.4 trillion.
The idea of creating an Africa-wide free trade area emerged at the 2012 African Union (AU) summit in Addis Ababa. Negotiations began in 2015 and the deal was signed by 44 of the 55 AU member states in March 2018, during the AU summit in Kigali. While the agreement has been operational since May 2019, some of its trade rules have only been implemented since October 2022 and between just seven states.
The AfCFTA aims to liberalize 97% of products, 90% of non-sensitive products followed by 7% of sensitive products. Phase 1 of the negotiation process has focused on trade in goods and services. Phase 2 includes competition policy, intellectual property and investment. Phase 3 incorporates e-commerce protocol. Key substantive issues are still to be completed, including some rules of origin, tariff concessions and specific services sector commitments.
The negotiating process has lacked transparency, with information available only through leaked texts. Social movements, including trade unions, have complained that they have tried in vain to engage with the AfCFTA secretariat.
While the proponents of the deal have claimed the AfCFTA will foster development in Africa and help African businesses, the deal has attracted criticism and opposition as well.
At first, large economies such as South Africa and Nigeria refused to endorse the agreement. Nigerian business groups, manufacturers, traders, farmers, small and medium enterprises expressed concerns that Africa could become a dumping ground of cheap products coming from abroad, which could wreak havoc on the ongoing industrialisation process. However, Nigeria joined at the 11th hour in July 2019, when the deal entered its operational phase, while South Africa had signed a year earlier. Eritrea is the only AU state that has refused to sign.
The AfCFTA is built on the dogma of free-market capitalism. It pushes a model of "development" hinged on increased trade and investment under the guise of pan-Africanism. However, it is "more of the same" trade rules that have been operational under the World Trade Organisation and bilateral agreements. It has been supported by major economic players such as the EU, the US, the African Development Bank, the United Nations Conference on Trade and Development, and the World Bank. Ultimately, it will likely benefit only African elites and transnational capital at the expense of local communities and small-scale traders who have historically traded informally in Africa, the majority of whom are women.
Some foreign powers have already seen opportunities arising from the AfCFTA. China is planning to capitalise on it to connect African and Chinese markets to promote the free movement of goods, persons, capital and technologies. India has signed a trade deal with Mauritius, which would provide a foothold into Africa. Turkish investors also see possibilities for development within the whole continent, while the EU might consider a mega trade deal. The US is speculated to sign a trade deal with the AfCFTA when the African Growth and Opportunity Act expires in 2025. The two parties have already signed a memorandum of understanding to promote trade and investment at the 2022 US-Africa Business Forum.
The full text of the AfCFTA is available here: https://www.bilaterals.org/?afcfta-consolidated-text-march
The following protocols are available here:
• Competition policy: https://www.bilaterals.org/?afcfta-protocol-on-competition
• Intellectual property rights: https://www.bilaterals.org/?afcfta-protocol-of-on-intellectual
• Investment: https://www.bilaterals.org/?afcfta-protocol-on-investment-48215
Last update: October 2023
photo: Paul Kagame/CC BY-NC-ND 2.0